Even though it is still summer break, planning for the school year is ramping up here at DePaul and we are excited to continue to provide our outstanding programs to students in the Pittsburgh area for the upcoming 2023-2024 year. We offer two distinct programs, depending on whether your child has hearing loss or speech delays.
My Child Has Hearing Loss – Listening and Spoken Language (LSL) Education
DePaul School for Hearing and Speech is an Approved Private School (APS) under the Pennsylvania Department of Special Education. We cater to the educational needs of students who are deaf or hard of hearing by utilizing LSL programming. Students who are approved to attend by their neighborhood schools or Intermediate Unit can enroll at DePaul School at no cost to their families and can enroll at any time of the year. DePaul School provides educational programs from infancy through 8th grade.
Our students and families have access to state-of-the-art Audiology and Cochlear Implant Services, Auditory-Verbal Therapy, Speech Therapy, Telepractice, Physical and Occupational Therapy, a psychologist and a school nurse to help each child navigate the daily listening and spoken language journey.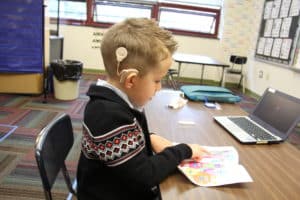 My Child Has Speech Delays – SAILL Preschool
In addition to our program for our students who are deaf and hard-of-hearing, we also offer SAILL (Speech and Integrated Language for Literacy) Preschool, a newly instituted preschool program with a separate private academic license. The program aims to provide a language-rich environment and comprehensive instruction to help children develop their spoken language skills effectively. Like our LSL education, we have open enrollment so students can come whenever they are approved; however, sometimes there is a waiting list for SAILL.
Enrollment Approval Process
For local students, your child's home district must approve your child before they can officially enroll. Potential students will be evaluated by our team of experts as well to ensure their needs will be met by our programs. For families who live far away, your child will need to be tested by their new home district once you move to Pittsburgh OR you may work with your current home district to approve out-of-state enrollment. Potential students will also be evaluated by our team of experts as well to ensure their needs will be met by our programs.
Regardless, your home district and DePaul School must approve students to enroll. Approval is based on many factors, including, but not limited to:
Degree of Hearing Loss
Test Scores
Psychological evaluation
IEP goals
Resources able to be provided by home district
IQ and/or other cognitive function tests
Medical history
Age
Early Intervention Services
DePaul offers a variety of Early Intervention Services to meet the needs of children ages birth to three years. We know that early intervention can have an immense impact on a child who is deaf or hard of hearing. It is crucial for your child's long-term success to begin developing his or her LSL skills as soon as possible.
DePaul School for Hearing & Speech offers the following Early Intervention Services:
Little Listeners Music Group
Summer Play Group
Toddler Group
Audiological Consultative Services
Parent Coaching Consultative Services
For more information on our Early Intervention Services, click here. Or, you can read our Baby & Toddler Activities and Programs article for additional information. If you have questions or would like to get involved, please complete the form (Music and/or Play Group) or call us at 412-924-1012.
Why Enroll at DePaul?
DePaul School for Hearing & Speech is a special place. We are not only committed to our student's education, but their spiritual, emotional, and personal growth as well.
It is our mission to provide and/or encourage:
Academic Excellence
Respect for the Individual
Commitment to the Children We Serve
Family Participation
Support for the Educational Community
Innovative Use of Technology
Life Long Learners
Relocating to Pittsburgh to Attend DePaul?
We are deeply invested in our community, our people, and our families and we recognize relocation may be a factor when considering enrolling at DePaul. Many families chose to move and now call Pittsburgh their home. DePaul School's policy is to provide equal educational opportunities to all students who qualify for admission to the programs without regard to race, color, religion, sex, ancestry, or national origin.
Here are some facts to consider when thinking about moving:
Review a cost of living analysis for Pittsburgh from Numbeo.
Read our article from last month which includes 10+ Pittsburgh Hotspots for current, new, or potential residents to get a feel of the city and all it has to offer.
Talk to us! We encourage you to reach out to us with your questions and/or concerns. We are a support resource and we are happy to discuss our school, school programs, and general Pittsburgh inquiries!
Take a Tour
We invite you to visit us virtually or in-person. Come see why our school is so special!
Take a virtual tour of the DePaul School for Hearing & Speech.
Schedule an in-person tour with us. Call us at 412-924-1012 to set up an appointment.
Check Out Our Interactive Documentary
Our Interactive Documentary is packed with history, school information, alumni stories, and pictures. The timeline takes you on a journey from when DePaul began in the mid-1800s to the present day. After learning about our history and reviewing our website, test your DePaul knowledge by taking our quiz. Finally, read testimonial stories from our alumni who speak passionately of their time at DePaul. This engaging documentary offers a great glimpse of our beloved school!
Contact Us
We are invested in our students and their families. We want your child to succeed and we are honored to be a part of their learning journey. If you have any questions or would like to enroll in one of our programs, please reach out to us. We look forward to speaking with you.