Young children who are deaf or hard of hearing attend DePaul School's Preschool Program five full days per week. The program is free of charge to all students who qualify (based upon speech and language assessment scores for ages 3-5).
Below is a sample schedule for a preschool day. Students schedules vary based on the child and/or day. If you have schedule questions specific to your student, please reach out to his/her teacher.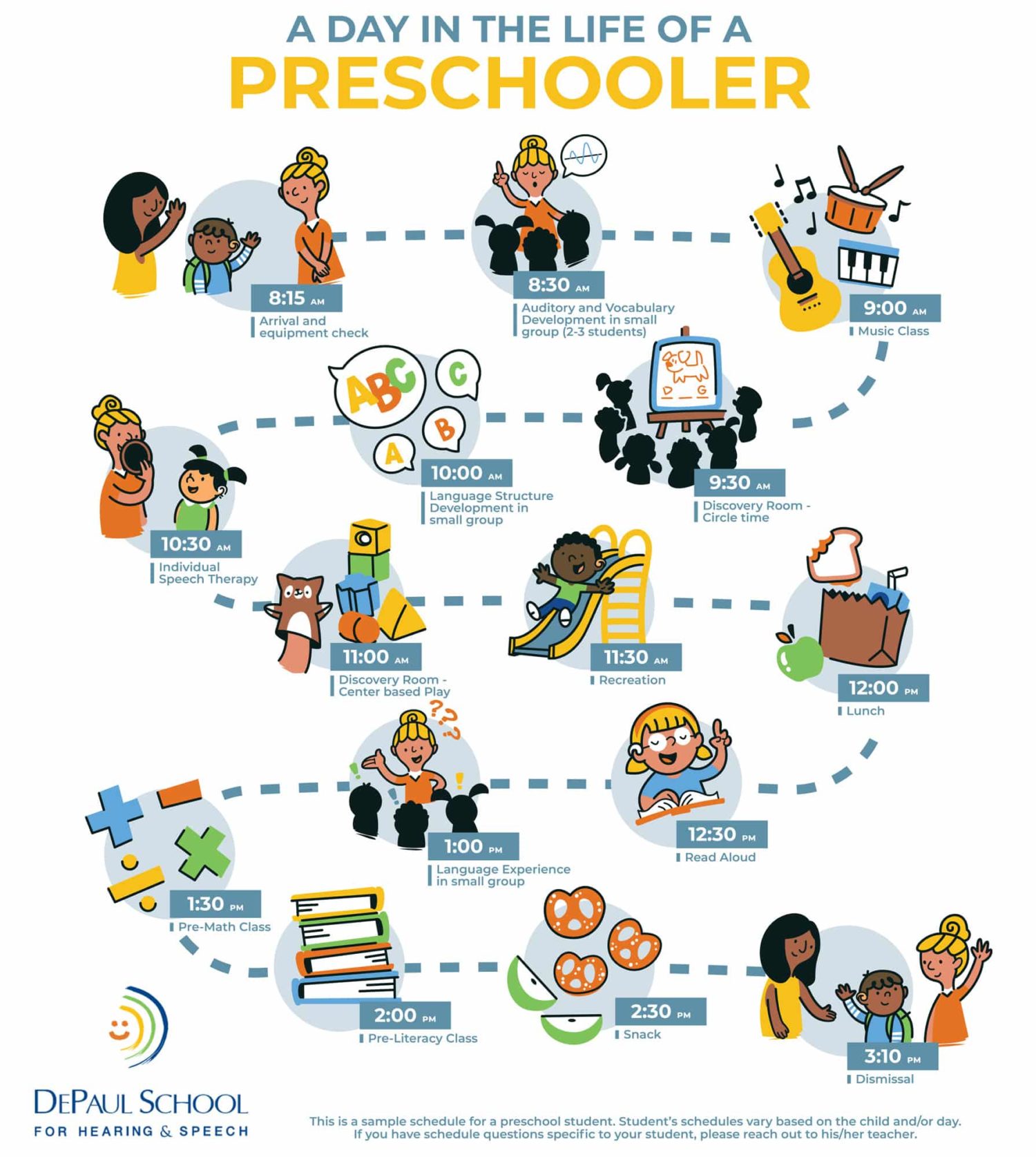 Small Class Sizes
We place students in class sizes of two to three based on their age and language levels in order to give them ample opportunities to practice listening and speaking. Our highly skilled Teachers of the Deaf help students develop their listening, speech, language, and pre-literacy skills through fun activities and lesson plans. DePaul School's preschool utilizes the Cottage Acquisition Scales for Listening, Language, and Speech (CASLLS) to identify each student's needs.
Fulfilling Social and Emotional Needs
Our goal for every DePaul student is to transition to their neighborhood school with all the tools necessary to succeed. We understand that a child's social, emotional, physical, cognitive, and creative skills are just as important as listening and speaking. Each school day our preschoolers get to play in larger group learning settings in the Discovery Room. There, students participate in circle- and center-based play and music class -- mirroring a traditional preschool setting -- which allows them to practice and reinforce their listening and spoken language skills.
Speech Therapy
Because our students need extensive guided practice to develop effective speech skills, each preschool student receives a minimum of three individual 30-minute speech therapy sessions per week provided by a Speech Language Pathologist trained in Listening and Spoken Language.
Technology in the Classroom
DePaul School for Hearing and Speech is committed to providing our students the highest quality access to sound available. We offer both a comprehensive sound field in every classroom and Bluetooth pass around microphones to promote speech. This ensures the most effective access to sound and allows every child to make the most of their learning.