10 Pittsburgh Hotspots for Current, New, or Potential Residents—Lots of Reasons to Enroll at DePaul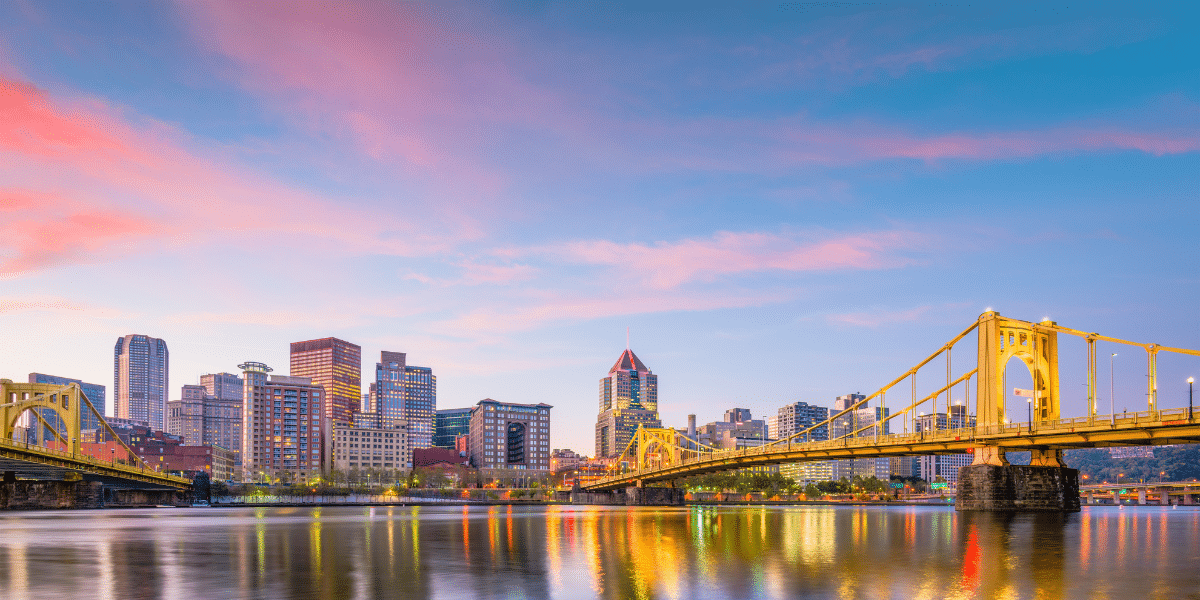 If you're new to Pittsburgh, considering a move to the city, or even a long-time local, there are several hotspots worth exploring. The city offers a wide range of neighborhoods and attractions to discover, each with its own unique character and charm. Whether your family is interested in arts and culture, sports, family attractions, dining, or outdoor activities, Pittsburgh has something to offer for everyone. Below are ten popular hotspots in Pittsburgh that can give you a taste of what this great city has to offer. We even included a bonus section that you don't want to miss!
1—Pittsburgh Zoo & Aquarium
Covering an area of 77 acres, the Pittsburgh Zoo & Aquarium is a favorite excursion in Pittsburgh, Pennsylvania, especially among families. The Pittsburgh Zoo & Aquarium is located in Highland Park (more information on Highland Park in #6) and is home to a vibrant collection of land and water animals from around the world.
The Zoo & Aquarium offers many adventures, including:
Animal Exhibits
Aquarium
Kids Kingdom
Conservation Efforts
Special Events and Programs
Dining and Amenities
Accessibility and Family-Friendly Features
2—Pittsburgh's Cultural District and PPG Paints Arena
Pittsburgh has a variety of local theatres and venues that feature amazing artists, performances, and music located in the downtown Cultural District. Pittsburgh's Cultural District is a hub of arts and entertainment.
PPG Paints Arena is another popular local entertainment spot to see your favorite singer or comedian. Additionally, this arena is the home of the Pittsburgh Penguins hockey team!
3—North Shore (Home to the Pittsburgh Pirates and Pittsburgh Steelers)
The North Shore is located across the Allegheny River from Downtown. This is a great spot to walk along the river, enjoy restaurants and stop by PNC Park (home of the Pittsburgh Pirates) or Acrisure Stadium, formerly known as Heinz Field (home of the Pittsburgh Steelers). It's a great area for sports enthusiasts and offers beautiful riverfront trails and parks.
Another major event spot located in the North Shore area is the American Eagle Outfitters Stage AE, or Stage AE for short. Stage AE is an indoor/outdoor concert and event space.
4—Duquesne Incline & Mount Washington Overlook
If you and your family enjoy site-seeing, then this destination is for you! The Mount Washington Overlook is known for its stunning panoramic views of the city skyline and its legendary Duquesne Incline. Take a ride on the incline and explore the breathtaking views of the city, discover the three rivers (the Allegheny, Monongahela, and Ohio) that converge in Pittsburgh, and enjoy the charming streets of this hilltop neighborhood.
5—Kidsburgh
Kidsburgh is a valuable resource for families in the Pittsburgh area. It is an online platform dedicated to providing information, recommendations, connections, and resources for parents, caregivers, and children.
Kidsburgh offers:
Family-Focused Content
Event Listings
Educational Resources
Health and Wellness
Seasonal and Holiday Guides
Local Resources and Services
Community Engagement
6—Highland Park
Highland Park is a 380-acre park that serves as a cherished green space for residents and visitors. The park features walking trails, a reservoir, picnic areas, playgrounds, and a swimming pool. It's a great place to enjoy outdoor activities, relax, or take a leisurely stroll.
7—Phipps Conservatory and Botanical Gardens
Phipps Conservatory and Botanical Gardens is a very popular and beautiful destination for nature enthusiasts, garden lovers, and anyone seeking a serene and stunning environment.
Visit the Phipps Conservatory and Botanical Gardens and you'll experience:
Botanical Gardens
Outdoor Gardens
Special Exhibits
Seasonal Flower Shows
Butterfly Forest
Educational Programs
Café and Gift Shop
8—Summer Festivals
Pittsburgh and the surrounding areas host many fun and family-friendly summer festivals. There is truly something for everyone and listed below are just a few that occur! To view a complete list of summer festivals, click here.
Three Rivers Arts Festival
Pride
Picklesburgh
Pittsburgh Black Music Festival
Summer Restaurant Week
Little Italy Days
Anthrocon 2023 – Anthropolis: Our Furry City
Pittsburgh International Jazz Festival
Fall Fantasy at Kennywood
9—Kennywood Amusement Park
Kennywood Amusement Park is a historic amusement park located in West Mifflin, Pennsylvania, near Pittsburgh. The park and its many charms have been entertaining visitors since 1898. Kennywood is known for its mix of classic and modern rides, attractions, and entertainment including roller coasters, family and kiddie rides, water rides, live performances, games, seasonal events, and more.
10—Millie's Homemade Ice Cream 
Millie's Homemade Ice Cream is a popular ice cream shop with several locations in the Pittsburgh area. Known for its artisanal approach and creative flavors, Millie's offers ice cream lovers unique and inventive flavors, seasonal selections, handmade waffle cones, vegan and dairy-free options, and more! Millie's Homemade Ice Cream offers a charming experience, whether you're an ice cream aficionado or just looking for a delicious cold treat.
11—Bonus Round
Need more of what Pittsburgh has to offer? We've got you covered! From PNC Park to the Carnegie Museum of Art, this city has so much to explore.
Contact Us
You can find a number of these hotspots and more at Visit Pittsburgh, which is a great resource for visitors, potential residents, and locals alike. As you can see, there is so much to discover in the areas surrounding DePaul School for Hearing & Speech. In addition to all of these wonderful hotspots, we encourage you to visit our school or contact us with any questions you have! Look for more information about enrollment in our next blog article too.