Baby & Toddler Activities and Programs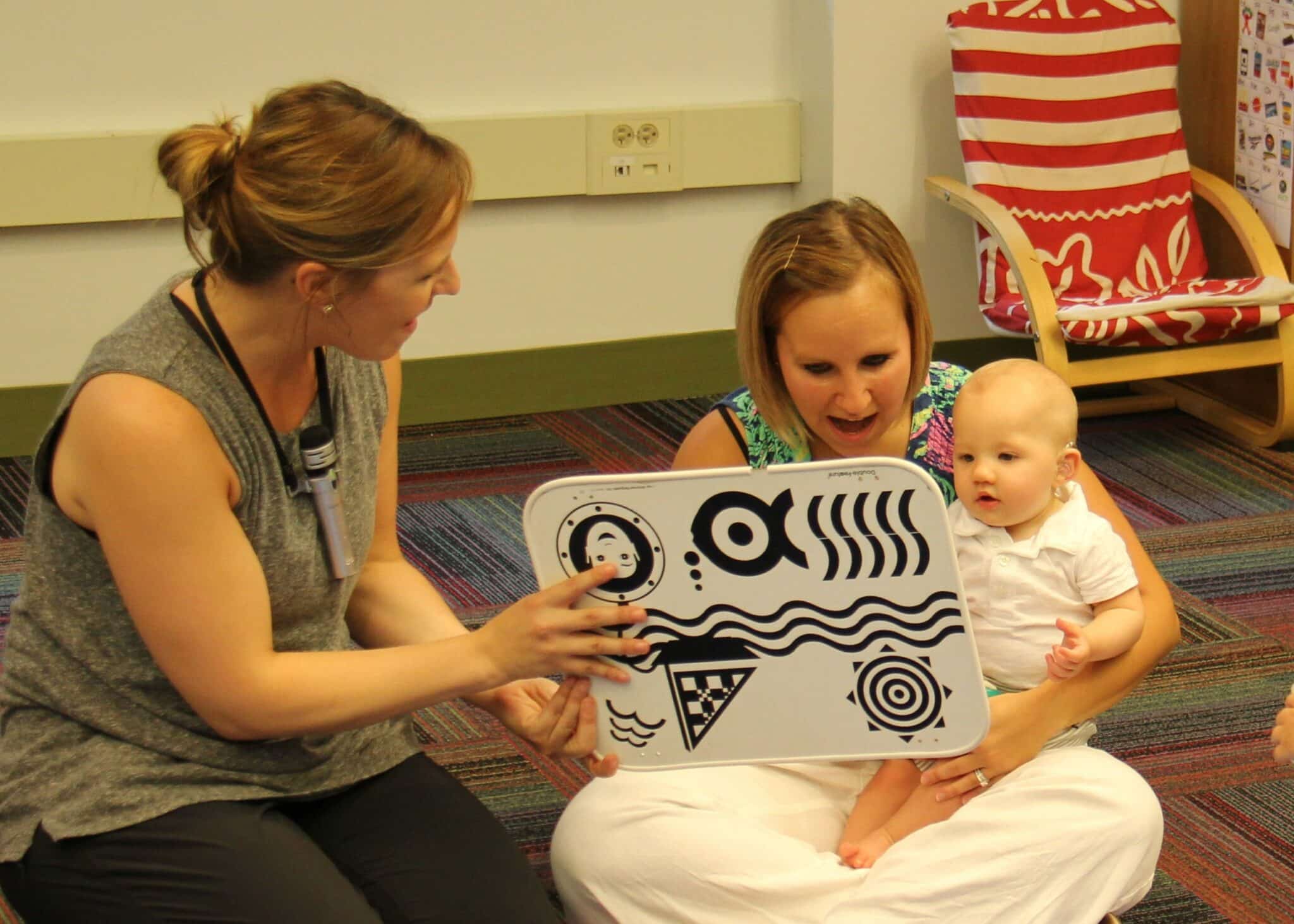 At DePaul School for Hearing & Speech, we offer excellent programs for babies and toddlers newly diagnosed with hearing loss. Regardless if you're just beginning your journey or have been on the learning path for a couple of years, we are here to help and we want to become a part of your son or daughter's team of advocates, teachers and specialists.
Early Intervention is Critical
Newborn hearing screenings identify children with hearing loss. When hearing loss is found, your child is eligible to receive services which should start as quickly as possible. Early Intervention is critical to avoid delays in listening, spoken language, and even reading. The technology and early intervention services available now allow children with any degree of hearing loss to develop Listening and Spoken Language (LSL) skills with the support of their family and professional care team.
DePaul School's team of expert clinicians developed an early intervention program designed to meet the needs of children newly diagnosed with hearing loss.  The program consists of services specifically for babies and toddlers. Advancements in medical technology, paired with targeted habilitation, make it possible to effectively close the developmental gap in language.
DePaul offers a variety of Early Intervention services to meet the needs of children birth to three years. For more information on Early Intervention at DePaul, click here.
Baby and Parent Group
Save the date for our upcoming Baby & Parent Group on 2/10, 3/10, 4/14, 5/12 at 10:00 a.m. The Baby & Parent Group is provided by DePaul School for Hearing and Speech is free of charge for parents, grandparents, and caregivers of babies with hearing loss. Bring your child to the workshop, learn strategies to promote your child's listening and spoken language, and connect with professionals whose expertise is in hearing loss. We encourage newcomers to attend. Siblings are also welcome!
During this group time, you will:
Discover ways to help your child grow and expand his or her language from infancy and beyond.
Discuss practical ways to develop language skills individually and in small group interactions.
Take home ideas to incorporate language development strategies into your daily activities.
Meet other parents and their babies with hearing loss.
Get support and encouragement from other parents and DePaul School professionals.
Little Listeners Music Group
The Little Listeners Music Group is for young children, age 2-3 with speech delays or hearing loss who could benefit from a language-rich experience. Connect with other parents and their children who have hearing loss while you sing, dance, play and socialize. Led by a teacher of the deaf, speech/language pathologist, and audiologist, this relaxed music-social group meets monthly to focus on simple songs and tips that can help develop listening and spoken language skills. Register for the Little Listeners Music Group today.
Listening & Spoken Language Tips:
Research shows music and singing can help children who are deaf or hard of hearing develop spoken language skills. Music is a very important tool in any parent's toolkit, especially if their child has hearing loss!
Make music a routine! Incorporating songs into repetitive activities (like the "Clean Up" song) can benefit your child by establishing routines, making a task more fun, and allowing them to connect the lyrics with actions.
Repetition is important for young listeners. Singing songs with repeatable lines or singing songs over and over again will allow your child to learn new vocabulary and build your child's auditory memory.
Toddler Group
Our Toddler Program has two groups: Young Toddler, children ages 18-24 months and Older Toddler, children ages 24-36 months. Our goal for your child who is deaf or hard of hearing is to learn in the most natural environment. This is why our program, while center-based, focuses on activities, experiences, and play that is interesting to a typical toddler. These activities are paired with the language and auditory input your child needs to help develop listening and spoken language skills. This small group experience is taught by a team including a teacher of the deaf, speech/language pathologist, and early intervention audiologist.
Consulting Services
We also offer audiological and parent coaching consultative services. You are your child's first and most important teacher. We want to give you the skills, techniques, and strategies to make the time you spend with your child the most effective for LSL development. The focus of each session is determined by you and your child's evolving needs. If you are interested in learning more, please contact us.
Contact Us
At DePaul, we are invested in our students and their families. We want your child to succeed and we are honored to be a part of their learning journey. If you have any questions, or would like to enroll in one of our early intervention programs, please reach out to us. We look forward to speaking with you.
Posted in
about
,
community
,
Early Intervention
,
for parents
,
Listening and Spoken Language
,
Programs
and tagged
baby
,
deaf
,
DePaul
,
early intervention
,
hard of hearing
,
hearing loss
,
parents
,
programs
,
toddlers