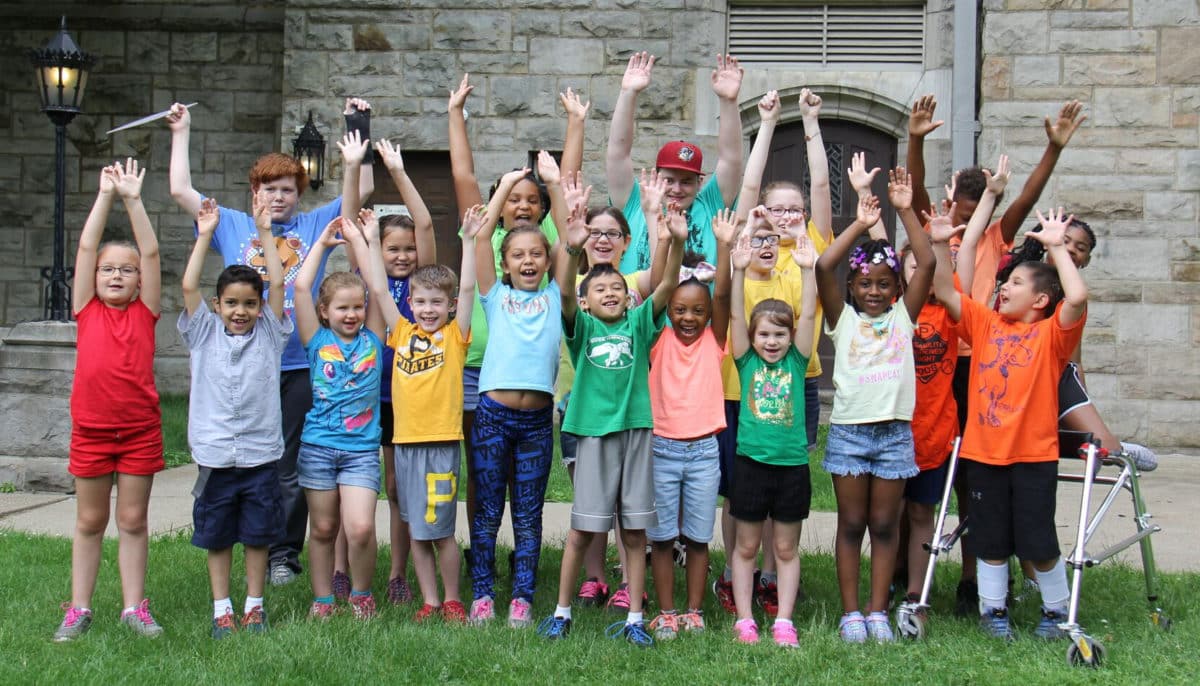 DePaul School for Hearing & Speech was founded in 1908 by the Diocese of Pittsburgh and the Sisters of Charity of Seton Hill. Our school has been providing quality Listening and Spoken Language (LSL) education for children who are deaf or hard of hearing for more than 100 years.
We embrace our responsibility in providing the best education for children who are deaf or hard of hearing through the development of academic skills that ensure success in their educational and social transition.
Throughout our history, we have seen children who are deaf and hard of hearing develop Listening and Spoken Language skills that serve as the foundation for lifelong literacy and intellectual growth. More than 70% of the students who attend DePaul School's Early Education programs transition to their neighborhood schools by first grade. That means we have a lot of alumni and we love sharing their success stories.
Jeannie Choi
DePaul alumna Jeannie Choi transitioned from DePaul in 2005. She graduated from Allegheny College with a Bachelor of Science degree in Biology with aspirations of becoming a doctor. Looking back on her time at DePaul, Jeannie says, "My best memories of DePaul are the people in it, especially the friends I made and the teachers who helped me flourish. The friends I gained at DePaul, even though we are well on different paths, we still talk once in a while because of the special connection we have in terms of being able to understand what it's like being hearing impaired. DePaul has truly helped me in terms of being able to assimilate into a public school where speaking is the norm and DePaul prepared me well for mainstreaming."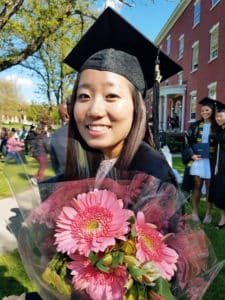 Tyler Stack
We are so proud of our school alumnus Tyler Stack. Tyler, who is profoundly deaf and has two cochlear implants, started preschool at DePaul School for Hearing & Speech when he was three years old. With the help of the teachers, audiologists, and speech-language pathologists at DePaul School, he transitioned to Saint Margaret of Scotland in Greentree when he was 13 years old.
As Tyler started high school at Seton LaSalle, his soccer career took off. His incredible defensive performances at Seton LaSalle launched Tyler onto the soccer team at the University of Mount Union where he is currently pursuing a major in exercise science and a minor in sports business. One of his teammates urged Tyler to try out for the USA Deaf Men's National Soccer Team. He played in the Deaf Team USA Camp last July and tried out for the 2022 USA Deaf Men's National Soccer Team. He was announced as one of the starting defenders and traveled with the team to Caxias do Dul, Brazil and competed in the Deaflympics in May 2022!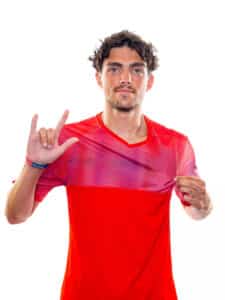 Michael J.
Fourth-generation student, Michael Prezioso, started attending DePaul when he was only two years old. Within a few weeks of starting school there, he said his first word, "ball." Michael shares, "After graduating from DePaul, I still came back to visit the teachers while I was in high school and to do volunteer work such as cleaning and maintaining the DePaul grounds as part of my Eagle Scout project.  When I would finish my college semesters early in May, I would volunteer for a few weeks during the last weeks of school in May and June to help with end of year activities. Maintaining close relationships with friends and doing good deeds are some of the important things that remain in my heart and mind." Michael had such fond memories of DePaul that he returned to teach.
Arlene Miller
Arlene Miller attended DePaul School for Hearing & Speech from 1960 – 1963. While at her neighborhood school, her special education teacher found and recommended DePaul to Arlene's family. Arlene has tender memories of winning a medal in the National Latin test and of her good friendships. She currently is a Board member of the Hearing Loss Association of Pittsburgh.
See More Spotlights
If you want to read more spotlights from our alumni, click here. Our Interactive Documentary is a great resource for DePaul history, including many wonderful alumni stories.
Submit Your Story
Are you a DePaul alumnus and want to share your experience with us? Do you have a favorite memory or story from your time at DePaul Institute or DePaul School for Hearing & Speech?
We would love to hear from you! Email your memory, class year, and a photo of yourself during your time at DePaul School to info@depaulhearingandspeech.org. Or, complete our Contact form.
Contact Us
At DePaul, we are invested in our students and their families. We want your child to succeed and we are honored to be a part of their learning journey. If you have any questions or would like more information on any of our programs, please reach out to us. We look forward to speaking with you.