How the Pandemic Changed Us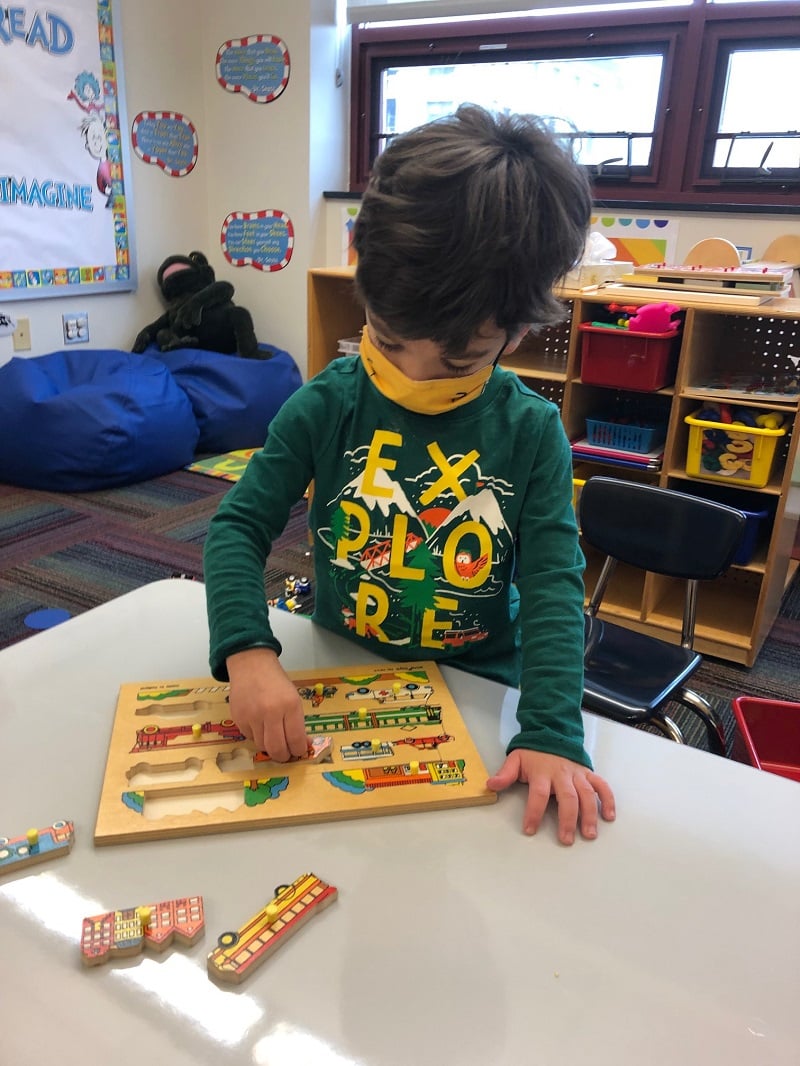 While it may seem like a lifetime ago, it has been over three years since the beginning of the Covid-19 pandemic. Reflecting back on that time and how schools dealt with what felt like impossible circumstances seems like a dream. DePaul specializes in hearing and speaking which was drastically impacted by the health mandates. However, that didn't stop us from coming up with creative ways to maintain our level of education for our students. Since that time, we've been forever impacted and changed due to the pandemic. Here's how the pandemic changed us.
We Acted Fast!
We had to QUICKLY adapt to technology. On Friday, March 13th, we knew we were going to be closed for an undetermined amount of time. Fortunately, (thankfully, serendipitously, coincidentally!!!) we had purchased all new Chromebooks one month prior for a robotics program we planned to implement. So, we collected all of the new Chromebooks, figured out how to add safety controls, and gave one to each student before they left. We had one (1!) hour to teach the kids how to turn the Chromebooks on and use them. Talk about a quick crash course in technology! 
Prior to that day, the students had only used computers in the computer lab at school. But now, they were expected to log on and meet virtually for classes. Our students are resilient and impressive! 
Teachers had to pivot and learn quickly too. 
Additionally, as soon as the students were dismissed, we taught the teachers how to connect with their students. Our dedicated teachers stayed after dismissal and received a crash course on Zoom and planned how online teaching was going to work. 
We planned for the fall and the unknown. 
As March, April, May, and June passed, we grew our technological capabilities. It was during this time, we started our journey with Google Workspace for Education and Google Classroom. It was decided in the summer that the school would open back up for in-person instruction in the fall of 2020; however, we wanted to make sure we could switch back to online learning at a moment's notice if necessary. 
Consequently, we researched and implemented a lot of accessible technology including different captioning services, online curriculums with accessibility features and a variety of Chrome apps/extensions like Co-Writer and Dyslexia Friendly Fonts.
We purchased additional Chromebooks so that each student, Kindergarten through 8th grade, would have their own personal device. We created accounts for our preschoolers so that parents could log in and talk to the teachers as well. As soon as we returned to in-person learning, we held in-services with teachers to implement Google Classroom as well as tech classes for our students so they'd be "experts" at Google.
Returning to in-person learning required a lot of changes to ensure students and staff remained safe. 
We used large desk shields for each student which could be transferred from room to room.

We rearranged the classroom configurations to allow for social distancing.

We put dots on the floors in the halls so students could line up 6 feet apart.

We implemented strict mask/safety policies that allowed students/teachers/therapists to be able to remove their "solid" mask and switch to a face shield so the face and lips could be seen. 

We rearranged furniture in the classrooms so students were much more spread out.

We reorganized lunch schedules so all students weren't eating at the same time.

We added sanitation stations at every doorway and stairwell.

We enforced a strict sick policy.

We kept the windows open whenever possible and purchased air purifiers for each room.
Our updated policies and procedures allowed us to remain in-person to provide the best educational experience to our students possible. While it wasn't the easiest, it worked for our school! To this day, students continue to use Chromebooks and are well-versed in different technologies. 
We couldn't hold in-person fundraisers
. 
DePaul School relies heavily on donations and fundraisers. Only 60% of our operating costs are covered by our state subsidy so donor support is vital in ensuring our students have access to the specialized education they need in order to excel in the hearing and speaking world. Due to the pandemic, we couldn't have in-person fundraisers which drastically reduced donations. We did utilize online giving much more heavily, but it still wasn't enough to offset the unplanned spending that was necessary on the adaptations to make it safe to come into the building. 
Additionally, we had to limit all visitors to the building so our outreach suffered as well as some research opportunities that were happening. 
We are thrilled that in-person events are occurring again, including our Reach for the Stars Gala happening on September 15. To learn more about our events, click here. 
A hybrid teaching style was also offered.
Even with all of our safeguards, we had students with severe health concerns who could not attend in-person. Therefore, we arranged a hybrid teaching style so that those students could join classes virtually. 
We learned A LOT!
Like everyone else in the world, we learned a lot. We learned we are driven and determined to provide our students with the best education possible, no matter the circumstances. We learned that our students and their families are equally determined and committed to their education. While some of these changes were implemented unexpectedly and quickly, we all did our best to redirect and carry on our mission to teach each child who is deaf or hard of hearing to listen, speak and learn. 
The pandemic was a challenging time in history that will not soon be forgotten; however, we are grateful for the lessons we learned and the skills we acquired. DePaul School for Hearing & Speech continues to embrace our responsibility in providing the best education for children who are deaf or hard of hearing through the development of academic skills AND new technology that ensure success in the educational and social transition.
Want to learn more about us?
At DePaul, we are deeply invested in our community, our people, and our families. If you have any questions, please reach out to us. We look forward to speaking with you.