Does Telepractice Benefit Everyone?
Factors That Determine Candidacy for Telepractice
Ramachandar, S., Ph.D1 , Parfitt, M., MA, LSLS Cert. AVEd2, and Moncrieff, D., Ph.D3 Southern Connecticut State University1, DePaul School for Hearing & Speech2, University of Memphis3
To identify factors that are related to positive outcomes in therapy delivered through a telepractice platform
BACKGROUND AND RATIONALE
Telepractice can be an effective method to offer parent education to families who have limited access to qualified professionals.
A number of factors including time constraints, issues with technology and inherent child features can influence the success of the therapy provided through telepractice.
When considering a telepractice option for a client it would be beneficial for clinicians to know which factors consistently resulted in positive outcomes for students and which factors were often indicators of limited success.
This is a follow-up analysis of data obtained from our study investigating the efficacy of parent education via telepractice in listening and spoken language skills of children with hearing loss.
METHODS
27 families of children with hearing loss between the ages of 2 and 7 years were recruited for the original study.
16 Families received telepractice sessions (5 families completed the study)
11 families in face -to –face group (6 completed the study)
Sessions were conducted once per week for 45-60 minutes by a licensed SLP under the supervision of a Listening & Spoken Language Specialist.
Services were provided for approximately 9 months.
Pre and post intervention measures included:

Standardized language testing of child
Video of parent child interaction with observable parent skills rating by clinician
Parent completion of a self-report questionnaire
SUMMARY
No statistical difference between post language scores between groups.
No statistical difference between between post SPISE: Self-Efficacy and Parental Involvement scores between groups.
FACTORS THAT

HINDERED

SUCCESSFUL TELEPRACTICE OUTCOMES 
(in order of impact degree)
Technical difficulties
Family factors (i.e. Both parents working, Siblings, Relocation, Motivation Commitment to facilitating spoken language, Presence of additional speech services)
Child factors (i.e. Attention)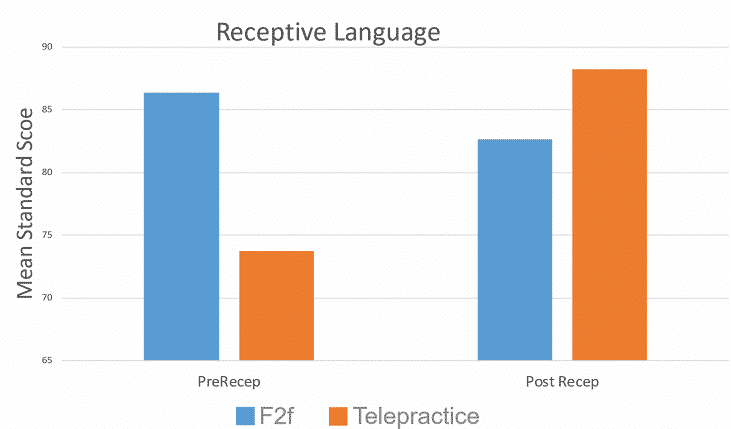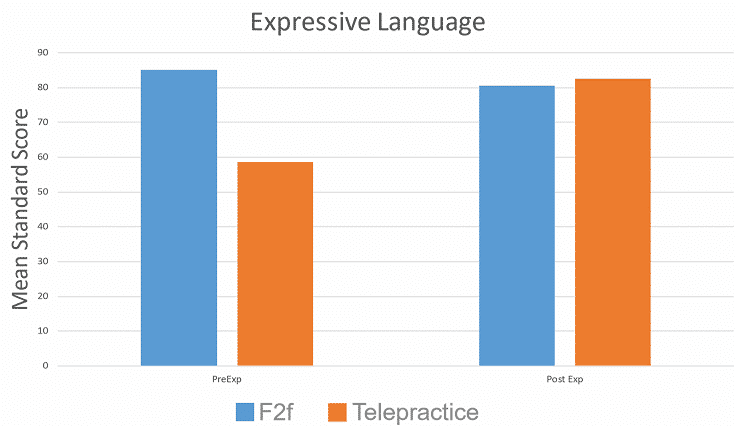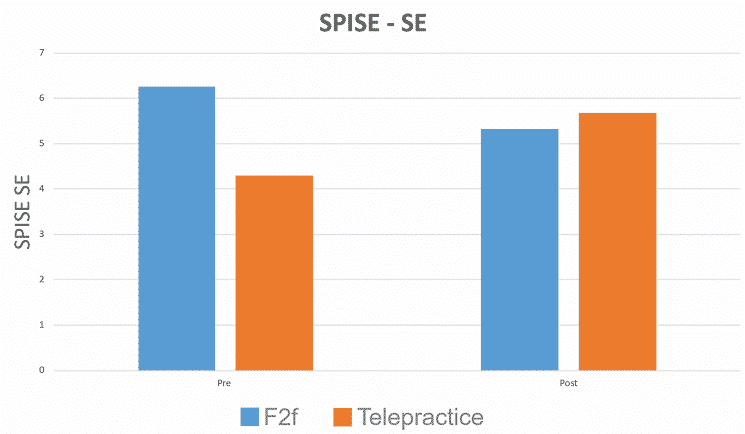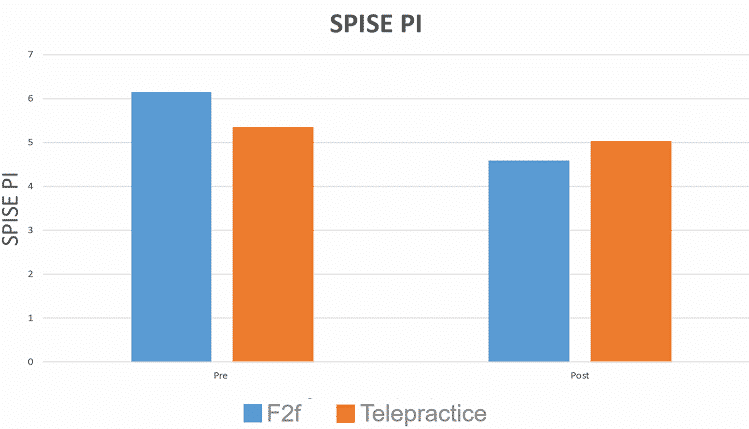 REFERENCES
Crutchley, S., & Campbell, M. (2010). TeleSpeech therapy pilot project: Stakeholder satisfaction. International Journal of Telerehabilitation, 2(1), 23.
Lincoln, M., Hines, M., Fairweather, C., Ramsden, R., & Martinovich, J. (2014). Multiple stakeholder perspectives on teletherapy delivery of speech pathology services in rural schools: A preliminary, qualitative investigation. International Journal of Telerehabilitation, 6(2), 65.
Percy-Smith, L., Jensen, J. H., Cayé-Thomasen, P., Thomsen, J., Gudman, M., & Lopez, A. G. (2008). Factors that affect the social well-being of children with cochlear implants. Cochlear Implants International, 9(4), 199–214.
Reynolds, A. L., Vick, J. L., & Haak, N. J. (2009). Telehealth applications in speech-language pathology: a modified narrative review. Journal of Telemedicine and Telecare, 15(6), 310–316. https://doi.org/10.1258/jtt.2009.081215
Telepractice: Overview. (n.d.). Retrieved April 4, 2019, from American Speech-Language-Hearing Association website: https://www.asha.org/Practice-Portal/ Professional-Issues/Telepractice/
Watkin, P., McCann, D., Law, C., Mullee, M., Petrou, S., Stevenson, J., … Kennedy, C. (2007). Language ability in children with permanent hearing impairment: the influence of early management and family participation. Pediatrics, 120(3), e694–e701.
Forducey, P., Speech telepractice program expands options for rural Oklahoma schools. The ASHA Leader, 2006.11(10): p.12-13.
Grogan-Johnson, S., et al., A pilot study comparing the effectiveness of speech language therapy provided by telemedicine with conventional on-site therapy. Journal of Telemedicine and Telecare, 2010. 16(3): p. 134-139.
Waite, M.C., et al., A pilot study of online assessment of childhood speech disorders. Journal of Telemedicine and Telecare, 2006. 12(Suppl 3): p. 92-94.
Cason, J., A pilot telerehabilitation program: Delivering early intervention services to rural families. International Journal of Telerehabilitation, 2009. 1(1): p. 29-38.
Kelso, G.L., et al., The Feasibility of Virtual Home Visits to Provide Early Intervention: A Pilot Study. Infants and Young Children, 2009. 22(4): p. 332-340.
Behl, D.D., et al., Tele-Intervention: the wave of the future fits families' lives today, 2010, EP Global Communications, Inc. p. 22.