DePaul School Capital Campaign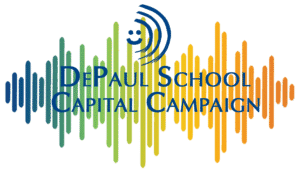 In 2000, DePaul School conducted a Capital Campaign to support the School's move to its current Shadyside location. Under the direction of DePaul School's Board of Trustees, our current Strategic Plan compels us to again conduct a Capital Campaign to raise funds enabling the School to adjust to ongoing changes in the educational landscape. As we plan for future needs and consider economic uncertainties, our Board believes it is prudent to pursue self-sufficiency through a $10 million dollar infusion of funds, thus, allowing the School's mission-driven work to continue.
As a longtime friend of DePaul School and the Sisters of Charity of Seton Hill, Art Rooney, Jr's life was forever changed when he and his wife learned their daughter was deaf. Thankfully, because of DePaul School, he and his family were able to have hope for the future.
DePaul School for Hearing and Speech has helped thousands of students like Mr. Rooney's daughter since its founding in 1908.
Through this capital campaign, DePaul School's Board of Trustees hope to raise capital to support three main strategic objectives, ensuring that DePaul School for Hearing and Speech continues to operate on a solid financial foundation well into the future:
Laying Foundations:
In 2005 DePaul School created a center-based baby/parent program. This successful program is expensive to operate and DePaul School does not receive any state subsidy to underwrite the costs. Research supports that teaching babies to speak during the time when the brain is primed to learn spoken language (0 – 36 months) is the most effective time in cultivating the listening and speaking processes in young children. When delays occur and the brain loses its plasticity (age 3), the tasks of learning, listening, and speaking, becomes much more difficult. The Board recognizes the life-changing impact this program has on our children and their families along with the need for dedicated funding for future children.
Enduring Technology Commitment:
Technology is ever-changing and requires consistent financial support. Funding technology needs for students who are deaf or hard of hearing via foundation grants is limited. For these students, technology is their link to the hearing world and encompasses much more than a computer. These children need to have specific equipment for effective teacher/student communication. Moreover, classrooms need to be outfitted with peripheral technology to support these devices. The Board realizes the 'hearing lifeline' that technology provides and the ongoing critical nature it plays in ensuring that our students achieve the learning gains needed for transitioning to neighborhood schools.
Investing in Human Capital:
Deafness is a low-incidence disability and many universities have eliminated their teacher of the deaf programs, resulting in a limited number of qualified teachers available for recruitment. We recognize that our greatest strength is our people and the expertise they bring to the education process. These specifically trained and highly qualified teachers are in demand. The Board acknowledges the need for resources to support a scalable and more equitable compensation package commensurate with the professional teaching skills DePaul School students require.
For more information, please contact us.
Student and Alumni Testimonials